Major Clarence L. Tinker, US Army, Camp Gerle Commanding Officer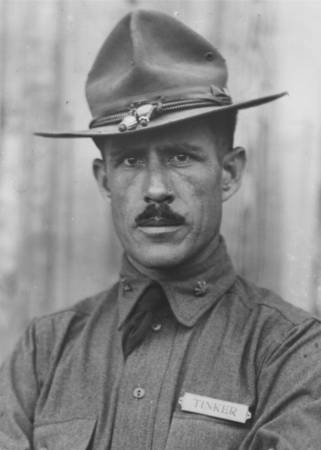 TINKER, CLARENCE L. (1887-1942). Clarence Leonard Tinker was the first American Indian in U.S. Army history to attain the rank of major general. One-eighth Osage Indian, Tinker was born on November 21, 1887, in Osage County, Oklahoma, the former Osage Nation, Indian Territory. Tinker, the eldest son of George E. Tinker and Sarah A. Schwagerte, received his elementary education in Catholic institutions at Hominy and Pawhuska, Oklahoma, and the Elgin, Kansas, public school. Beginning in 1900 Tinker attended the Haskell Institute at Lawrence, Kansas, but withdrew before graduating. In the fall of 1906 Tinker enrolled in Wentworth Military Academy at Lexington, Missouri. Upon graduating in 1908 Tinker was commissioned a third lieutenant in the Philippine Constabulary.
Tinker's service with the constabulary lasted until 1912 when he was commissioned into the U.S. Army as a second lieutenant. After infantry training Tinker joined the Twenty-fifth Infantry Division at Fort George Wright in Spokane, Washington. In January of 1913 the Twenty-fifth transferred to Hawaii. While stationed near Honolulu, Tinker met and married Madeline Doyle of Halifax, Nova Scotia.
During World War I Tinker served in the southwestern United States and California, rising in rank to major. In 1919 Tinker began flying lessons and soon transferred to the Air Corps. Tinker's aviation career began when he was assigned to flight duty on July 1, 1922. For the next twenty years Tinker was stationed primarily at air installations in the southeastern United States. He continued climbing in rank, becoming a brigadier general on October 1, 1940. At that time Tinker was in charge of MacDill Field, Tampa, Florida. As German armies rolled across Europe, Tinker cautioned against Japanese aggression in the Pacific. The plans he devised to protect the Panama Canal and Caribbean region became important wartime strategy.
Tinker took command of the Hawaiian Department following the Japanese attack on Pearl Harbor in December 1941. Promoted to major general in early 1942, he was placed in charge of the newly created Seventh Air Force at Hickam Field, Hawaii. A proponent of aggressive bombing tactics, Tinker led four Liberator bombers on a raid to Wake Island on June 5, 1942. Leaving Midway Island on June 6, Tinker's plane crashed at sea, killing all on board.
Clarence L. Tinker was the first American general to die in World War II; his body was never recovered. He received the Soldier's Medal in 1931, and the Distinguished Service Medal posthumously. Tinker Air Force Base in Oklahoma City, Oklahoma is named in his honor.
Sevigny, Arthur, Historian, 20th fighter Wing Association source for background on Camp Gerle, Eldorado National Forest, 1932, Major Tinker US Army and 20th Pursuit Group provided this brief biography from "Osage General: Major General Clarence L. Tinker," by Dr. James L. Crowder